The key to everything we do is the neuromuscular system. The muscles and nerves must be educated not only on how to move, but how fast to move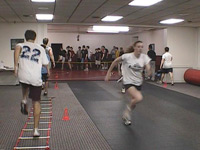 (MAXIMIZE). We teach the elimination of wasted motion (MINIMIZE). All of the training is very specific to the movements demanded in the sport. The athlete that moves the best is often the most powerful player. We are first and foremost movement specialists, teaching athletes to maximize efficiency every step of the way. We will improve your speed, power and agility – the three pillars of athleticism.
SGT4E Smart-Speed System – Taxing the body and challenging the mind!
Coaches don't always need the fastest player, they need someone mentally focused who won't crumble when times are tough. Multiple commands during physical exhaustion-being able to think on your feet and react in a split second. No two speed workouts are ever the same!
This system was designed after being taught for over 4 years by  the "Speed Doctor" Chuck Mound, the man most notably famous for running a 4:21 forty yard dash at Rutgers University. This feat is only outdone by his work and professionalism demonstrated with the Elite College Combines in New Jersey and surrounding states.
Our facility is the only one in Pennsylvania certified by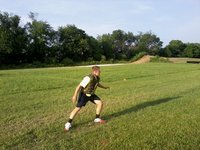 Chuck Mound Performance Training.