We set the bar on this program!
The participants of this program are now successful Division1, 2 and 3 football players, male and female basketball players, field hockey players, swimmers, soccer, lacrosse, volleyball, etc. Some are now Coaches, married, and a few have children that they bring to do the same type of training they did many years ago.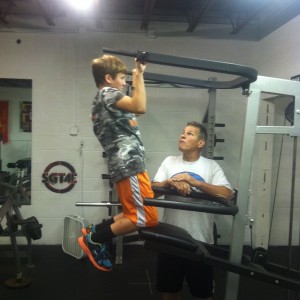 Open growth plates, spinal cords that are not yet fully developed, peer pressures, puberty, developing a sense of self, building a positive self image, sounds like a health class right? Wrong! This is the middle school program and those are the things that are addressed in each session. This is an entry level strength – speed – agility class designed to prepare these young athletes for high school. These 1 hour classes focus on safety and form, lifelong training techniques and strength training that will build muscle around ligaments and tendons to PREVENT INJURY. This is a supervised and structured class and each member is given direction and guidance in a semi-private setting. During each session I have local athletes who shadow the students and monitor the volume and intensity of their workout. The added bonus provided is the self confidence and pride these young male and female athletes develop in the 8 week session. Many parents comment on the enthusiasm or changes in attitude displayed by their sons or daughters, Tony Misitano says, "I have watched my daughter increase her speed , strength and endurance to levels never thought possible. Sarge has motivated her like no one I have ever seen, including my wife and I!!! Not just in the training room but in the classroom as well."
We have two training options for middle school students:
3-Day Training Program:
Mondays & Wednesdays 5:00 – 8:00 PM (2 Days of Strength Training)
Wednesdays 7:00 – 8:00 PM (Speed Training)
1-Day Training Program
Sundays 12:00 – 1:00 PM (Strength Training)
Sundays 1:00pm – 2:00PM (Speed Training)
Responsibility is the main priority. Showing report cards and maintaining above average grades is a pre-requisite.  Elementary School students may attend the speed drills on Wednesday or Sunday.
All members must produce their report cards!